Message from Fr. Rolando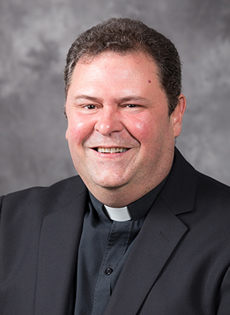 Dear Immaculate Family:
"Take nothing for the journey..." I don't know about you but when I pack for a trip, I usually end up taking along more stuff than I really need. If I go on vacation, I tend to pack clothes for every possible weather pattern in the northern hemi-sphere! That is a burden and it costs me money especially now that you have to pay for every single piece of checked luggage.
Jesus wants his disciples to travel light. He is not talking about vacations but about what we pack for life. Too much stuff may enslave our hearts and keep us from the real meaning of life. Jesus knows how easy it is to be possessed by our possessions and to value ourselves more for what we have than for who we are for God and others. Jesus wants us to know that the only thing we cannot live without is the love of God.
In addition to this, Jesus reminds us that there are other burdens even heavier than material stuff: anger, resentment and other negative feelings. On our journey through life, we may be hurt in many ways. What should we do? Jesus tells us: "shake the dust off your feet". That is, don't allow your failures, failings, and conflicts to stick to your shoes and become a burden that cripples you and prevents you from doing what is right. Don't hold on to old grudges, past hurts, bad memories... Move on and keep going!
Jesus wants us to travel light so that we can create even more space within ourselves for God. More space to let God direct our lives. More space for God to be with us. More space for us to let God be God to us. More space so we can be who God wants us to be for others: messengers announcing God's love and goodness.
God bless you all!
Fr. Rolando