Message from Fr. Rolando Cabrera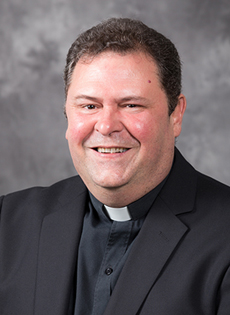 Dear Immaculate Family,
God bless you all!
We have just celebrated the Solemnity of the Immaculate Conception of the Virgin Mary, Patroness of America and Patroness of our Parish. The faith of the Church proclaims that the woman chosen to be the mother of the Savior was, by the grace of God and in virtue of Christ's redemption, preserved immune from any stain of sin from the very moment of her conception. She is the "full of grace", as the angel greeted her at the Annunciation. Mary is so full of grace that there is no room for sin within her. God wanted his Son to enter the world through the purest and most excellent vessel.
Even though Mary was preserved immune from sin, she was not preserved immune from being truly human. Mary had to say "yes" to God's plan freely as a human being: "Behold, I am the handmaid of the Lord. May it be done to me according to your word". She was not preserved immune from the struggles and hardships of life either. Many times her soul was pierced by a sword as Simeon announced her. She suffered misunderstandings, poverty, hard work, persecution, exile, and the loss of her only child on a cross, but she never hesitated in her faith and trust in God.
As we remember her uniqueness -how she was and still remains the Immaculate Conception-, we remember too that she is our mother and model of Christian discipleship. Mary shows us, through her faith, obedience and trust in God, how to be the kind of people God expects us to be: "blessed those who hear the word of God and put it into practice". These days, let us pray for our country, placed under the protection and guidance of the Immaculate Conception, that we may never forget our vocation to be "one nation under God". Let us pray also for one another that, as members of the Immaculate Conception Parish, through our devotion to Mary, we may be able in our own weaknesses and struggles to make our Blessed Mother's words our own: "Behold, I am the servant of the Lord. May it be done to me according to your word".
God bless you all!
Fr. Rolando