Message from Fr. Rolando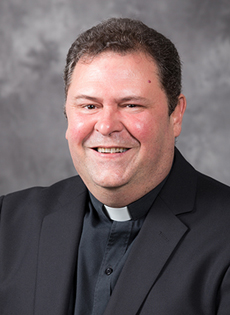 Dear Immaculate Family:
In today's Gospel, Jesus gives us a new commandment to love one another. But how is this commandment new? Earlier in his ministry a lawyer came up to Jesus and asked, "What is the greatest commandment?" Jesus responded, "It is to love God with all your heart and to love your neighbor as yourself." This is a great love commandment. In what way, then, does today's new love commandment move beyond the earlier love commandment? It differs because Jesus uses himself as the model of love. He says, "Love one another as I have loved you." If Jesus is the model for loving, then the stakes of loving are raised much higher, because Jesus loved selflessly, and completely and universally.
Jesus loves us the way that we are. He loves us with all of our faults and shortcomings. He loves us with all of our sins and prejudices. Even though all of us could be better people, Jesus does not postpone his love until we improve. He finds the goodness in us and loves us today, and then he asks us to love one another in the same way.
He asks us to love our spouse as the person he or she is, giving love today even though we wish that our spouse would be more confident or more sensitive. He asks us to love our children as the people they have become, reaching out to them in love even though we might wish that they worked harder or made better decisions.
He asks us to love our friends with all their faults, accepting them even when they may let us down. He asks us to love anyone we have a hard time loving. It would be easy to love people if they met our expectations, if they were the people we wanted them to be. But real love is unconditional like Jesus'. Let us pray for the grace of loving as Jesus loves.
God bless you all!
Fr. Rolando