Message from Fr. Rolando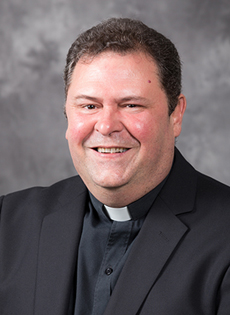 Dear Immaculate Family:
A new school year is about to begin. I want to take this opportunity to welcome all incoming and returning families to the 2022-2023 school year at Immaculate Conception Catholic School.
We are eager and determined to provide your children with the most engaging and enriching school experience possible. Through a strong collaboration between the school faculty and staff, students, parents and the entire Parish community, I am confident we will achieve our goals and more.
To the parents, thank you for entrusting your child to our care and education. I know that your child's education and future are very important to you. Please, be assured we will work very hard to ensure educational excellence for your child. And remember, without you we will not reach our full potential as a school. After all, you are the first teachers of your children. We count on your support, presence and participation during the school year.
To the students, I hope you had a wonderful summer. I also hope you are ready to start the new school year filled with joy, expectations and willingness to grow in knowledge, friendship and faith. Your teachers have been working hard to prepare a wonderful year for you. I wish you all the best.
To the teachers, thank you for your commitment and dedication to give your best to your students knowing that what you do is not just a job but a ministry to our children. God bless your efforts this school year!
And to you, dear parishioners, I invite you to take part in this wonderful educational journey. Our school is not just a "private school" among others. It is a "Parish School". That means it is a work, a ministry of our Parish of which the entire community is responsible in one way or another.
Since 1954, our Parish school has been an amazing presence in the city of Hialeah providing quality faith-based education for many generations. This has also been possible thanks to the support of many parishioners who contributed with talent, time and treasure to the life of our school. So, as we begin the new academic year, I invite you to ask yourselves: what can I do for our school?
Let us pray for our school community. Let us pray to Mary, the Immaculate Conception, to bless our efforts. Let us pray that our school will carry on its mission well into the future, so that what was begun in 1954 may continue for generations to come.
God bless you all!
Fr. Rolando