Message from Fr. Rolando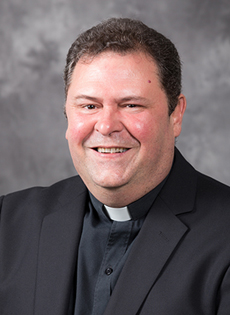 Dear Immaculate Family:
Once again we start the blessed season of Advent, time of preparation and expectation. The time between now and Christmas is brief, and I guess your "to-do" list is huge. Over the next few weeks there will be lots of parties, lots of shopping, lots of traveling, lots of activities… We must be ready for that but Advent reminds us that we must prepare for something more than that.
As people of faith we prepare for the encounter with the Lord who is coming. Advent means "coming". Jesus came two thousand years ago when he was born in Bethlehem. Jesus will come again in glory to judge the living and the dead. Jesus is coming everyday and in many ways into our lives. The good news of Advent is that there is never a time when Christ is not with us: yesterday, today and tomorrow, so we can be people of hope. Jesus is always with us, in good times and in bad. Take a look at the Advent Wreath. With each candle we light we proclaim that the light of God shines in the darkness and the darkness will never overcome the light. The hope of Advent is that whenever there is darkness, fear and despair in our lives and around us, God is present, God is in control and He always comes.
Advent begins with the invitation: Be prepared! Stay awake! We cannot be like those people in the times of Noah who were eating and drinking, doing business, making money, and having fun. What is wrong with that? Nothing. The problem is that they thought life was just that. They were so busy making a living that they forgot to make a life for the Lord. Advent is time to put everything in its proper place and to give God the right place He deserves in our lives. The big drama of the Christmas story everyone knows is that there was "no room for them". Not simply that there was "no room", there was no room... "for them". There is always room for so many things in our hearts. Advent is an invitation to make room for Him, the One who is coming. Now is the time to put on Christ and walk in the light of the Lord. If we do that on a daily basis, then we will be ready not just for Christmas but also for eternity. I wish you all a fruitful Advent season!
God bless you all!
Fr. Rolando