Sunday, January 2, 2022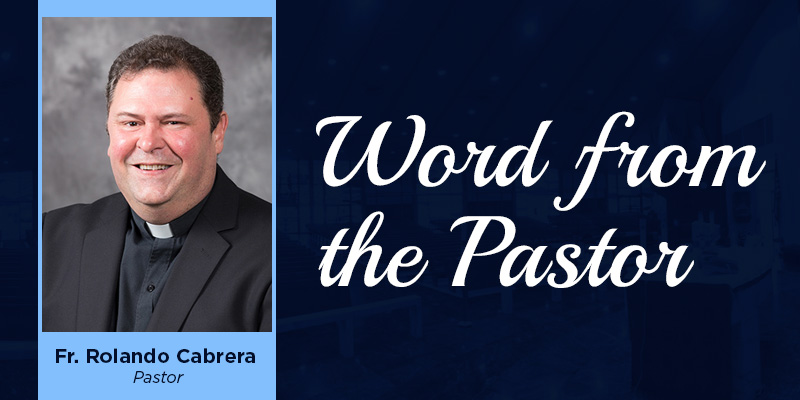 Dear Immaculate Family:
God reveals his glory in the unlikeliest of places — in a stable at Bethlehem, at a wedding party in Cana, in a muddy Jordan river, and on a bloody cross on Golgatha. Jesus' first public miracle (his first sign) was performed at the insistence of his mother. Jesus blessed a young couple and brought joy to their wedding party. First by his presence, and second by saving them from embarrassment when the wine ran out. In the Old Testament wine was often seen as a gift and symbol of God's blessing (Deut. 7:13; Prov. 3:10, Psalm 105). That Jesus would miraculously produce 180 gallons of the best wine (many times more than needed) shows the superabundance of the blessings which he came to offer. God's kindness knows no limits. The measure of his love is to love without measure.
The spouses of Cana were smart enough to have Jesus among their guests. When we invite Jesus into our hearts, our marriages, our families, our entire lives... wonderful things may happen.
Jesus always has the power to turn water into wine: the water of despair into the wine of hope, the water of selfishness into the wine of self-giving love, the water of sadness into the wine of joy, the water of resentment into the wine of forgiveness, the water of routine into the wine of permanent novelty… The only thing we need to do is to put our water in his hands and do whatever he tells us. In this process we can count on Mary. The story of Cana shows us the power of her loving intercession. With Jesus and Mary in our lives, we will never run out of wine!
God bless you all!
Fr. Rolando
Querida familia de la Inmaculada:
Dios revela su gloria en los lugares más insólitos: en un establo en Belén, en una fiesta de bodas en Caná, en el lodo del río Jordán y en una cruz ensangrentada en el Gólgota. El primer milagro público de Jesús (su primer signo) se realizó por insistencia de su madre. Jesús bendijo a una joven pareja y trajo alegría a su fiesta de bodas. Primero por su presencia, y segundo por salvarlos de la vergüenza cuando se les acabó el vino. En el Antiguo Testamento, el vino se considera a menudo un símbolo de las bendiciones de Dios (Deut. 7:13; Prov. 3:10, Salmo 105). El hecho de que Jesús produjera milagrosamente 180 galones del mejor vino (muchas veces más de lo que era necesario) muestra la sobreabundancia de las bendiciones que él nos viene a traer. La bondad de Dios no conoce límites. La medida de su amor es amar sin medida.
Los esposos de Caná fueron lo suficientemente inteligentes como para tener a Jesús entre sus invitados. Cuando invitamos a Jesús a nuestro corazón, a nuestro matrimonio, a nuestra familia, a toda nuestra vida... pueden suceder cosas maravillosas.
Jesús tiene siempre el poder de convertir agua en vino: el agua de la desesperación en el vino de la esperanza, el agua del egoísmo en el vino del amor entregado, el agua de la tristeza en el vino de la alegría, el agua del resentimiento en el vino del perdón, el agua de la rutina en el vino de la novedad permanente… Lo único que tenemos que hacer es poner nuestra agua en sus manos y hacer lo que él nos diga. En este proceso podemos contar con María. La historia de las bodas de Caná nos muestra el poder de su intercesión amorosa. ¡Con Jesús y María en nuestras vidas, nunca nos quedaremos sin vino!
¡Dios los bendiga a todos!
P. Rolando