The Advent Wreath
Thursday, November 24, 2022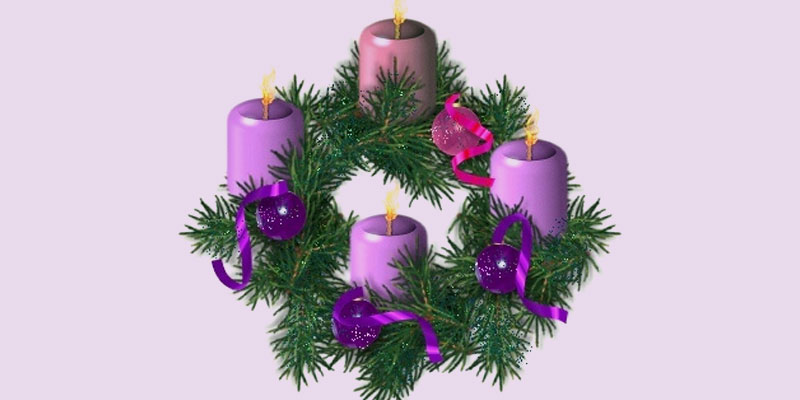 This Sunday we begin the beautiful season of Advent. It is a time of waiting and hope. Waiting: because we wait for the newborn Christ who will bring light to the darkness of this world. Hope: because this child is the promise of salvation of the Most High. The Advent wreath is present near our altar for all Masses during Advent. Catholic.net gives us a beautiful catechesis on the origins of the wreath: "The Advent wreath has its roots in pre-Christian customs of Germany.
During the cold and dark December, they would gather wreaths of green branches and lighted fires as signs of hope in the coming of spring. But the Advent wreath is not a concession to paganism but on the contrary, it is an example of the Christianization of culture. The old now takes a new and full content in Christ. He came to make all things new ... The wreath contains several symbols: The circular shape: The circle has no beginning or end. It is a sign that God's love is eternal, without beginning and without end, and also our love for God and neighbor that should never end.
The green branches: Green is the color of hope and life. God wants us to wait for His grace, the forgiveness of sins and eternal glory at the end of our lives. The most important desire in our lives should be to achieve a closer union with God our Father. The four candles: Turns our thoughts to the darkness caused by sin that blinds man away from God. After the first fall of man, God was gradually giving a hope of salvation that illuminated the universe like candles of the wreath. As darkness dissipates with each candle we light, the centuries were illuminated as we grew closer to the coming of Christ to our world. Four candles that are placed in the wreath and are lit one at a time during the four Sundays of Advent when we gather for family prayer.
My prayer is that all of our families, as they decorate their homes for Christmas, may find a space for the Advent wreath and that it is lit every night when the family gathers for dinner. We have Advent wreaths available in our gift shop. Jesus Christ is the light of the world, and our hope is that His light may come soon. COME, LORD JESUS, come quickly!
La Corona de Adviento
Este domingo empezamos la bella época de adviento. Es un tiempo de espera y de esperanza. Espera: porque esperamos al niño Dios que alumbre la oscuridad del mundo. Esperanza porque este niño es la promesa de salvación del Altísimo. La corona la tenemos presente en nuestro altar para todas las Misas de adviento. Catholic.net nos da una bella catequesis sobre la corona y sobre esta época de adviento: "La corona de adviento encuentra sus raíces en las costumbres pre-cristianas de los germanos (Alemania).
Durante el frío y la oscuridad de diciembre, colectaban coronas de ramas verdes y encendían fuegos como señal de esperanza en la venida de la primavera. Pero la corona de adviento no representa una concesión al paganismo sino, al contrario, es un ejemplo de la cristianización de la cultura. Lo viejo ahora toma un nuevo y pleno contenido en Cristo. El vino para hacer todas las cosas nuevas…La corona de adviento encierra varios simbolismos: La forma circular: El círculo no tiene principio ni fin.
Es señal del amor de Dios que es eterno, sin principio y sin fin, y también de nuestro amor a Dios y al prójimo que nunca debe de terminar. Las ramas verdes: Verde es el color de esperanza y vida. Dios quiere que esperemos su gracia, el perdón de los pecados y la gloria eterna al final de nuestras vidas. El anhelo más importante en nuestras vidas debe ser llegar a una unión más estrecha con Dios, nuestro Padre. Las cuatro velas: Nos hacen pensar en la obscuridad provocada por el pecado que ciega al hombre y lo aleja de Dios. Después de la primera caída del hombre, Dios fue dando poco a poco una esperanza de salvación que iluminó todo el universo como las velas la corona.
Así como las tinieblas se disipan con cada vela que encendemos, los siglos se fueron iluminando con la cada vez más cercana llegada de Cristo a nuestro mundo. Son cuatro velas las que se ponen en la corona y se prenden de una en una, durante los cuatro domingos de adviento al hacer la oración en familia." Esperamos que todas nuestras familias al decorar su hogar para la Navidad encuentren un espacio para la corona de adviento y que la enciendan todas las noches al reunirse la familia para cenar. Jesucristo es la luz del mundo y esperamos que esa luz venga pronto. VEN, SEÑOR JESUS, NO TARDES!
Retiro de Adviento
Se acerca la Navidad y para preparar nuestro corazón al nacimiento del Salvador, la Asociación de Maria Auxiliadora te invita a una mañana de Reflexión con el Padre Isidro Pérez el.
3 de diciembre, de 9:00am a 1:30pm - Salón Parroquial La Sagrada Familia.